Extract from Mission, Vision and Values
"A central belief in Tethys Oil's business model is to explore for and produce oil and gas in an economically, socially, and environmentally responsible way."
"Tethys Oil seeks to be a sustainable and profitable business long-term. Sustainability means running a business that is not only profitable but is aligned with the requirements and expectations of stakeholders both within and outside the Group."
Our business model and sustainability impact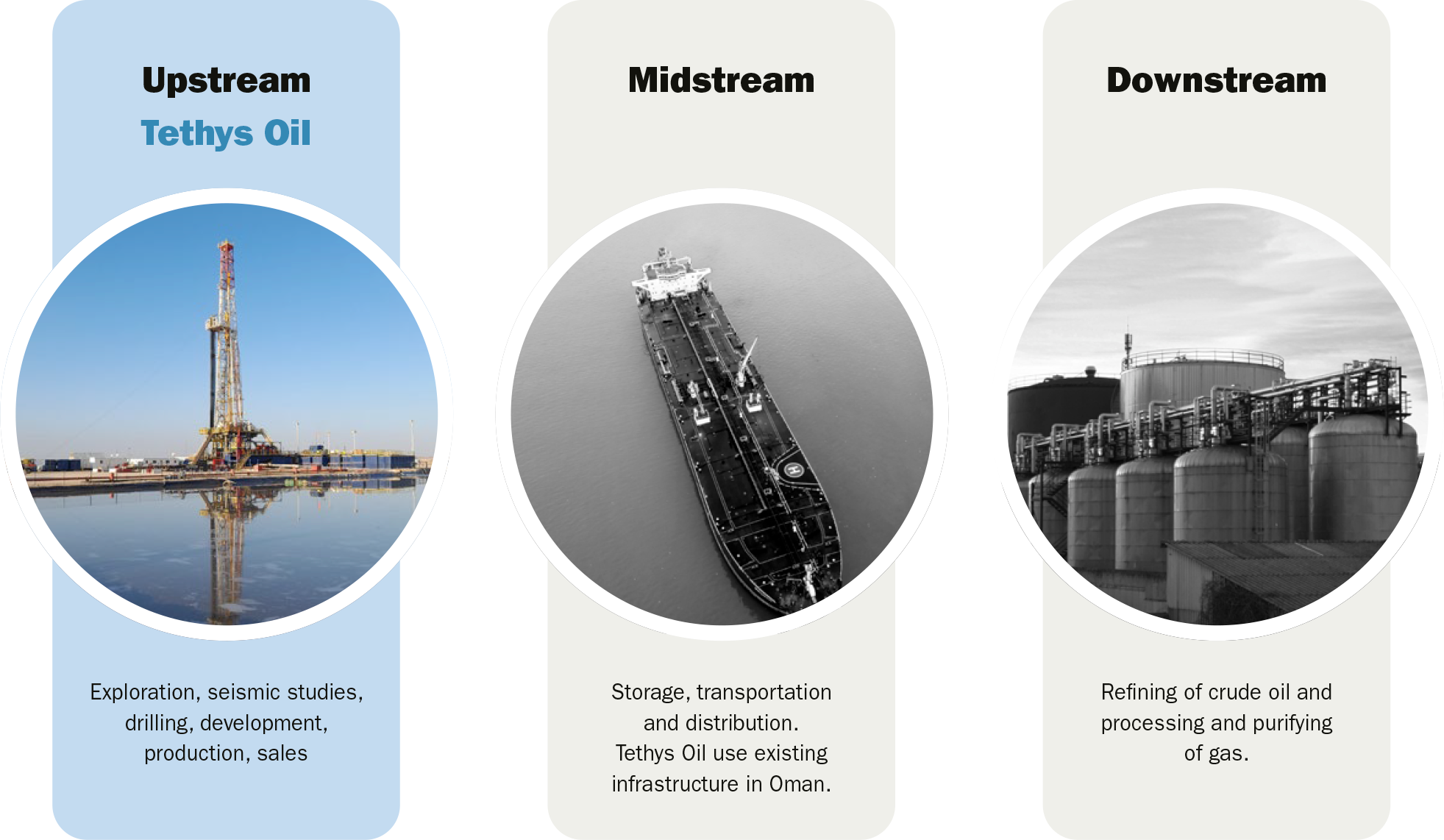 The upstream business cycle includes onshore oil exploration, seismic acquisition and interpretation, drilling, development, production, and crude oil sales. The potential sustainability impact connected to the business area of the oil industry that the Company operates in includes environmental, social and financial effects. The focus on onshore exploration and production is a strategic decision. Due to lower drilling and development costs, financial exposure is lower than offshore explorations. Onshore oil exploration also involves lower environmental and safety risks. In all its activities, Tethys Oil seeks a balanced approach to risk.
The environmental surroundings on land, especially in the desert settings of Oman, have a lower risk of impacting the surface environment and the natural habitats of animals. Due to the strategic approach to focus on geographies with proven hydrocarbons, the Company is minimising the subsurface risk by exploring areas with previously overlooked discoveries, using modern techniques with proven, conventional technology.
Keeping the operations on land also increases the possibility of emergency preparedness which helps manage safety risks. On the other hand, the onshore operations might have various impacts on local communities. Aligning with the company's values, Tethys Oil´s ambition is to reduce the impact on local communities and contribute in a positive way.
Throughout the oil and gas industry, joint operating agreements are common practice. In Oman, licenses to geographical areas are assigned through Exploration and Production Sharing Agreements (EPSA) and one company is appointed as the operator. Each partner holds ownership of the equity and shares costs, benefits and liabilities of the asset or project. The operator serves as the overall manager and decision maker of the Block. Tethys Oil has operational control and the opportunity to affect and establish sustainable operations in three out of the five Blocks, Blocks for which the Company has interest shares. The Tethys Oil operated Blocks are currently in exploration phases.
ESG considerations and possible impacts exist at all operational stages. Implications during exploration phases are considered less extensive since activities are sparse, targeted and sporadic. Tethys Oil's ambition is to ensure sustainable environmental, social, and governance routines and practices that will allow sustainable greenfield projects for new developments of oil and gas fields.