Tethys Oil's sustainability strategy springs from increasing expectations in a changing world to be able to contribute to the future energy needs of the world.
Tethys Oil's mission is to create value for its stakeholders in a sustainable and profitable way long-term. The world's sustainability agenda is rapidly evolving, not least following the Paris Agreement initiated in 2016, resulting in higher expectations from stakeholders and society at large. On the one hand, the energy demand is still increasing. Meanwhile, emissions need to be cut in half to comply with the Paris Agreement. Tethys Oil is committed to continuously develop the sustainability strategy to keep up with the evolving demands and increased responsibilities stemming from the Group's expanding operations and license portfolio.
For the strategy to be effective, it must stem from the Group's unique circumstances – there is no universal solution for upstream oil and gas companies. Therefore, the efforts are focused on understanding external stakeholders demands and expectations on the Group as well as mapping and understanding the Group's unique circumstances concerning those expectations.
Tethys Oil seeks to provide oil and gas and at the same time operate responsibly. Operating a sustainable and responsible business means reducing environmental impacts, such as emissions and interference with local animal habitats, and contributing positively to local communities. It also means fostering a corporate culture permeated by integrity, respect, and ethical values.
To identify focused issues in sustainability efforts, a materiality assessment is conducted. Evaluation of potential ESG issues based on their significant economic, environmental and social impact, in determining what matters to report upon, Tethys Oil has conducted an initial assessment that will in a second step make sure it reflects changes in our business and the external environment. The issues identified will be evaluated and ranked according to importance from the perspective's external stakeholders. This will be done through correspondence with external stakeholders to further prioritize the topics.
Stakeholder engagement
Tethys Oil continuously updates its materiality analysis, to address the most important topics to the business and its stakeholders. Given the nature of the business, the Group has a broad base of external and internal stakeholders. Openness and mutual trust are the foundations on which the Group builds its relations with stakeholders. The Stakeholder Relations Policy outlines the engagement and relationships with the stakeholders. Tethys Oil has a continuous approach to stakeholder engagement. As set up in the Stakeholder Relation Policy, the Group aims to promote stakeholder relationships through two-way communication, engagement, collaboration, transparency, active listening, and equal treatment. The Group assesses this approach to be well suited for collecting and comprehending all parties' legitimate interests and how to take them into consideration when implementing the sustainability strategy.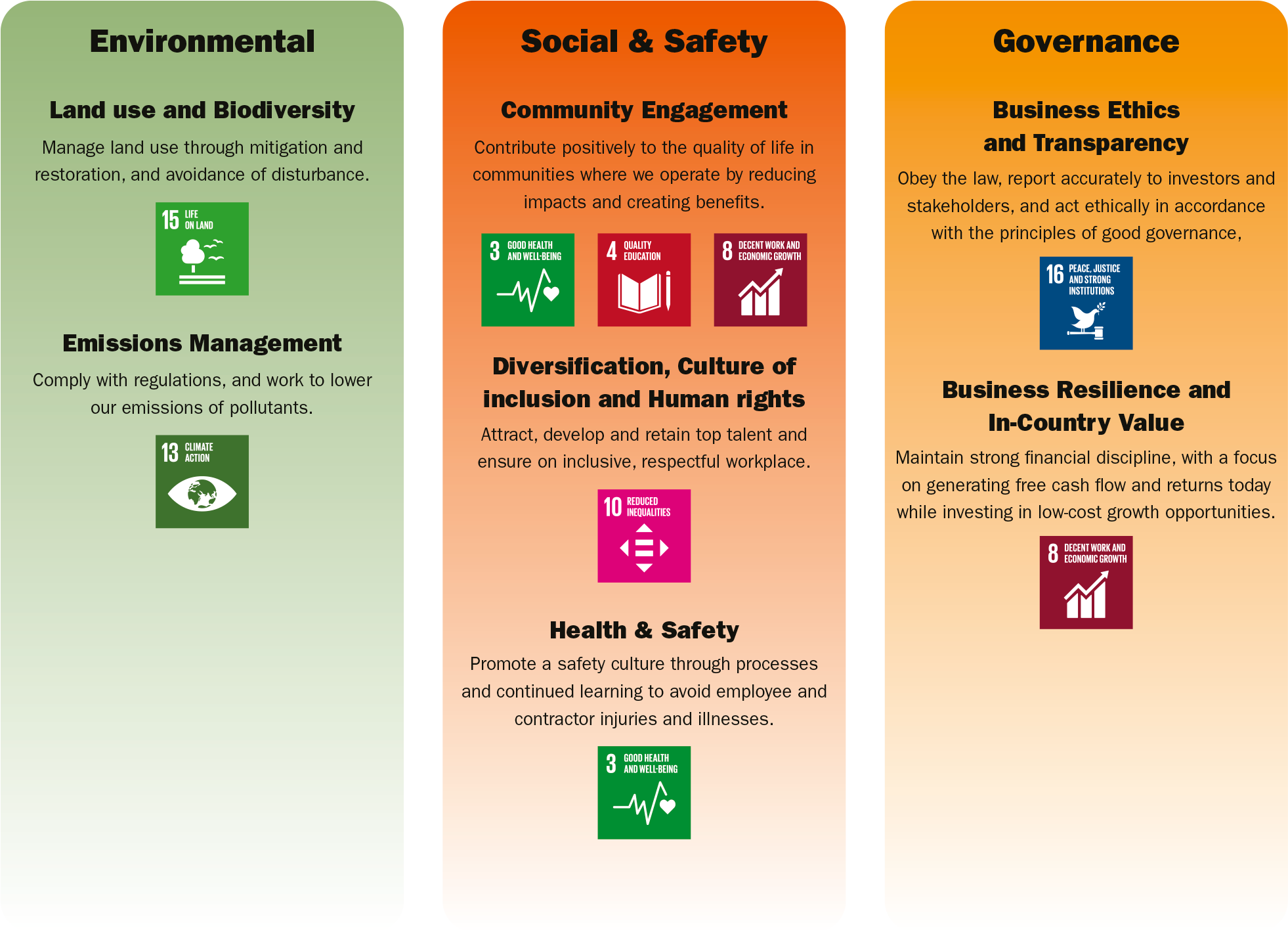 Tethys Oil has identified seven SDGs where the Company's sustainability strategy contributes and supports the goals as defined by the UN.